According to the Official Syllabus of Actual Cisco 300-415 ENSDWI Exam
Cisco 300-415 ENSDWI Exam
Implementing Cisco SD-WAN Solutions
Total Questions: 173
Based on Official Syllabus Topics of Actual Cisco 300-415 ENSDWI Exam
During the preparation for your
Cisco Certified Network Professional certification Exam
, you may get confused about the question types, exam pattern, and time allotted for Cisco exams. Study4Certify helps you eliminate these doubts through its actual Cisco
300-415 exam questions
. We made sure you can easily pass the Cisco Implementing Cisco SD-WAN Solutions Exam by using
300-415 practice questions
. You can use your smartphone, laptop, or tablet to prepare Cisco Certified Network Professional exam questions in PDF format anytime, anywhere. The evaluation of preparation is one of the most important parts to remove your mistakes and successfully prepare for the Cisco 300-415 exam. The Cisco Certified Network Professional practice questions help you to strengthen your weaker points, and get familiar with the actual exam questions. They are available at a cheap price along with some
Free 300-415 ENSDWI exam questions
.
How Do These Free Questions Help You Prepare for the Real Cisco 300-415 ENSDWI Exam?
Make Yourself Familiar with the Actual Cisco Exam Syllabus, Format, and Question Types
Keep yourself updated with the official information about the syllabus and format of the exam to develop an effective study plan. This information can make you familiar with the questions and topics that will appear on the actual Cisco 300-415 ENSDWI exam. Don't waste time and focus on the learning content expected in the actual exam.
Evaluate Your Preparation for the Actual 300-415 ENSDWI Exam
Manage your daily work to ensure that you have enough time every day to study the Implementing Cisco SD-WAN Solutions exam questions. Sit in a quiet environment and study hard every day to complete the entire 300-415 ENSDWI exam syllabus. Everyone knows it is impossible to study in just one morning and pass the 300-415 ENSDWI exam the next day. If you want to pass your exam with excellent marks on the first attempt, prepare with the Cisco 300-415 ENSDWI practice questions exam every day.
Cisco 300-415 ENSDWI Exam Questions
Question 1
An enterprise has several sites with multiple VPNs that are isolated from each other A new requirement came where users in VPN 73 must be able to talk to users in VPN 50 Which configuration meets this requirement?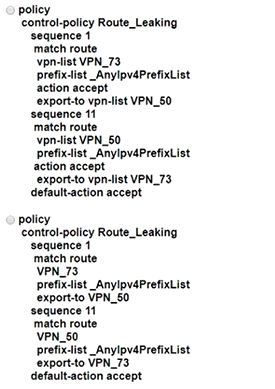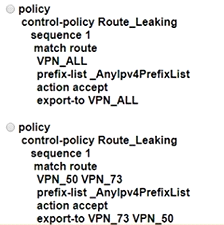 Question 2
An engineer must configure a centralized policy on a site in which all HTTP traffic should use the Public Internet circuit if the loss on this circuit is below 10%. otherwise MPLS should be used Which configuration wizard fulfils this requirement?
Question 3
An administrator must deploy the controllers using the On-Prem method while vManage can access the PnP portal from inside How are the two WAN Edge authorized allowed lists to be made available to vManage? (Choose two)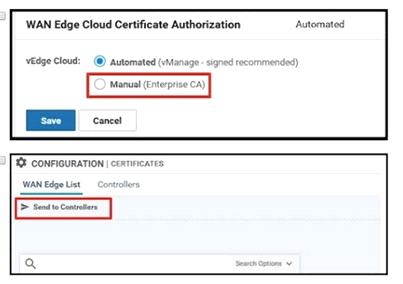 Question 4
What is an attribute of TLOC'?
Question 5
How is multicast routing enabled on devices in the Cisco SD-WAN overlay network?
Question 6
Which routing protocol is used to exchange control plane information between vSmart controllers and WAN Edge routers in the Cisco SD-WAN secure extensible network?
Question 7
Refer to the exhibit An engineer is getting a CTORGNMMIS error on a controller connection Which action resolves this issue?